To officially mark the launch event of Aura Network, the dinner party "The NFTs Night" took place on July 25 at GEM Center, District 1, Ho Chi Minh City. The event welcomed 100 special guests, including partners, strategic advisors and communities. In which, regarding Blockchain and NFT industries, there were representatives from Binance, Impossible Finance, Coin98 Finance, Kyros Ventures, K300 Ventures, Blogtienao, Goctienao, Tienthuattoan etc.
The event opened with a flawless LED light performance, giving an overview of the Aura Network project and the ambitions of the founding team. With the belief that NFT is not a passing fad, but a nascent market with long-term potential, Aura Network aims to build a one-stop destination for NFTs.
Moving on to the next part, Giang Tran, Founder & CEO of Aura Network delivered a Keynote on the Aura Network progress update. According to Giang Tran, aiming to "Redefine the NFTs", Aura Network will thrive to commit to these 4 visions chronologically:
Vision 1: BUIDL the NFT ecosystem of the future. Starting as the best user experience ecosystem of Cosmos.
Vision 2: NFT Hub for other blockchain ecosystems.
Vision 3: Make NFT become familiar to the global population by educating users.
Vision 4: Just BUIDL! Aura will launch incentive programs and scholarships to support BUIDLers.
Following this vision, Aura Network is built into 4 layers, including:
Infrastructure: contains all resources relating to the underlying blockchain platform.
Currency: contains 2 native currencies of the Aura ecosystem, including Aura Coin and Aura Token on BNB Smart Chain. Aura also supports creating CW20 tokens, similar to other blockchains that use the CosmWasm module.
API: applications building on Aura are required to provide standard open APIs for public serve.
dApps: applications that offer rich user experience in working with DeFi and NFT. Currently, Aurra Network is focusing on developing these dApps:
-  Wallet integration: crypto wallet for Aura Network. With the advantage of acquired 3M+ users and 60+ different chains supported, Coin98 Wallet is now the official wallet of Aura Network.
- AuraScan: positioned as the next generation of blockchain explorer, which is blazing fast and compatible with any Cosmos-based chain. It is equipped with Etherscan-like features, including token/contract management and private labeling.
- Pyxis Safe: a secured multi-signature and fine-grained access control asset management tool, inspired by the UX of Gnosis Safe. It will be available on Aura Network, Evmos, Cosmos, Juno and OSMOSIS.
- Horoscope: an indexing service for Aura Network, providing real-time data for everything in the Aura ecosystem. Users can track the date of everything, including wallet, block, transaction, NFT, tokens, etc.
- Aura Hub: a powerful tool for NFT creators on Aura Network, with OpenSea and Solana NFT metadata standards. It allows creators to make their own store for displaying purposes. We are building built-in multiple minting and auction types, and third-party marketplace integration for Aura Hub.
- Artaverse: the prior version of Aura Hub that allows artists and event producers to create licensed and high quality NFTs. The first collection is minted in collaboration with FPT Online for the "In The Mirror - #2" Live Concert.
After the sharing session of Giang Tran, Founder & CEO of Aura Network was the 30-minute Q&A session. Honored guests were answered to questions about the Aura Network by its founding team and 03 advisors, including Thanh Le, Founder of Coin98 Finance, Vinh Nguyen, Co-founder & CEO of Coin98 Finance, and Calvin Chu, Core builder of Impossible Finance.
Lastly, the most awaited moment of the event happened. The founding team of Aura Network officially put their hands on the NFT buttons to activate the launch of Aura Network. This was also the official opening moment of The NFTs Night. Toward the end of the event, honored guests had time to enjoy the meal served by a 5-star restaurant on soft music background.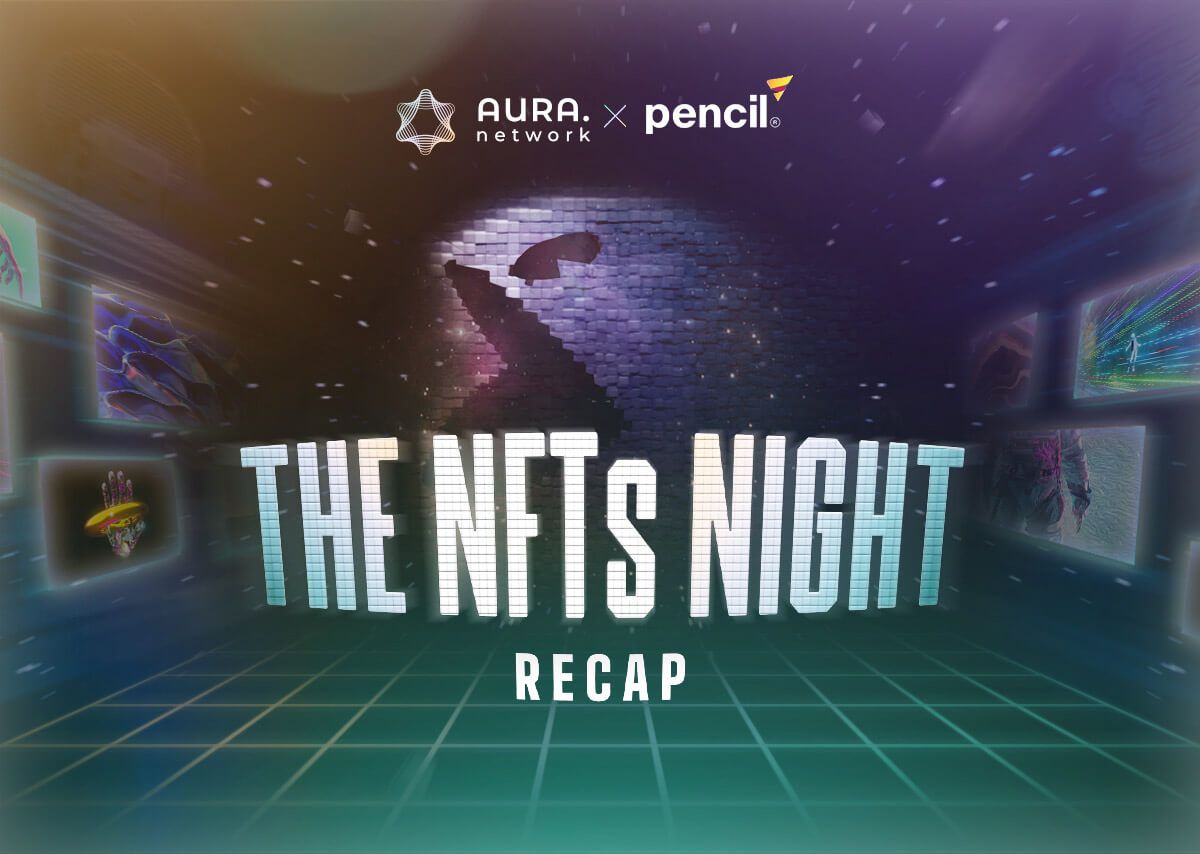 Aura Network is very grateful to have our partners, advisors and communities on our side since day 1. We appreciate your contribution to making The NFTs Night - Aura Network launching a success.