Русская версия нажмите здесь
Aura Network (AURA) Listing Information
Aura Network (AURA) will be listed on Gate.io
Token symbol: AURA
Listing time: 09:00 AM on July 25th (UTC), 2023.
Listing details will be shortly announced on Gate.io.
The free airdrop program to celebrate the listing will start on July 24th
In order to reward its platform users, Gate.io launched the "Startup Project Free Airdrop Program". Free airdrops for excellent blockchain projects are launched in the Startup area from time to time. VIP and GT users can get a variety of tokens via airdrop benefits.
Gate.io Startup will launch its next Free Airdrop Program with Aura Network (AURA), on July 24th, 2023 at 06:00 AM (UTC).
💡
Register
to join the free airdrop program
HERE
.
Important dates:
Startup Sale Duration: 06:00 AM on July 24th - 06:00 AM on July 25th (UTC), 2023. Orders placed by qualified users within these 24 hours will be treated equally.
After 06:00 AM on July 25th (UTC), 2023, Gate.io will collect all the qualified orders and distribute the tokens according to the ratio of the individual purchase orders to the purchase orders in total.
Trading starts time: 09:00 AM on July 25th (UTC), 2023.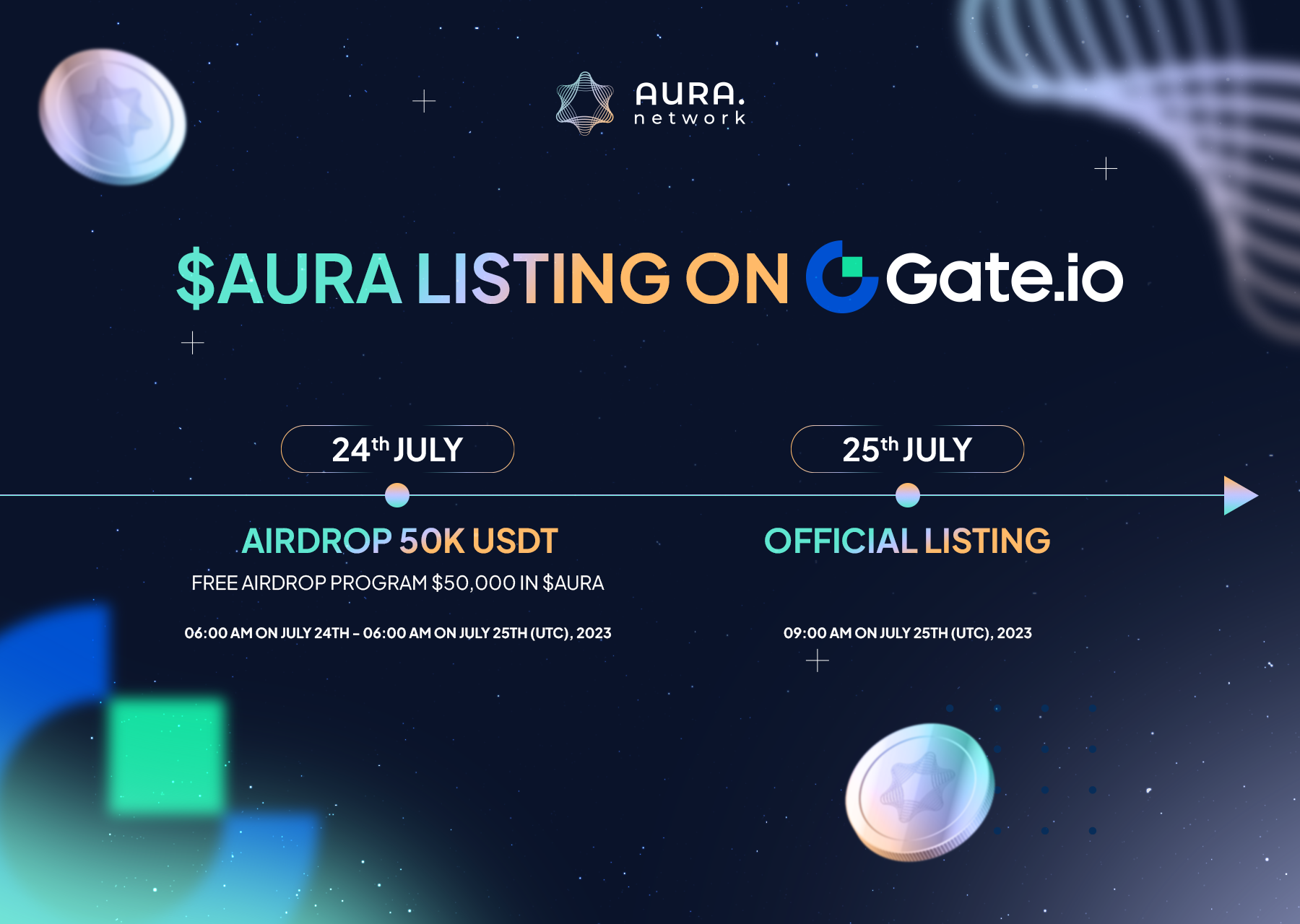 Frequently Asked Questions
For more information about Aura Network and AURA token, check out our FAQs here.
💡
Join our
Discord
channel for instant support regarding your trading experience.
This move marks another milestone for Aura Network in its incredible development. But remember, this is just the beginning. We have many more surprises and exciting developments in store for the community.
About Aura Network
Aura Network is the growing Cosmos blockchain layer 1 that provides valuable public infrastructure for the broader ecosystem. Backed by Hashed Ventures, FPT Corporation, and Coin98 Ventures, Aura Network has achieved significant milestones in expanding the ecosystem since launching the mainnet. Aura Network is about to list the $AURA token on Gate Exchange.
Website | Twitter | Discord | Telegram | Blog
About Gate.io
Established in 2013, Gate.io has consistently ranked among the top 10 exchanges. It is a full-service digital asset exchange platform covering millions of users around the world.
The company prides itself on providing industry-leading security in addition to having been audited to show 100% proof of reserves. Gate.io operates in most countries across the world, and is always committed to complying with the applicable laws where it operates.
Website | Twitter | VIP Twitter | Telegram | API Telegram | Instagram | Medium